Colophon
Concept, editing, image editor, realisation: Martine Vermandere, Amsab-Institute of Social History (Amsab-ISH)
Research: Christophe Declercq, University College London, University of Antwerp, Amsab-ISH, Imperial College London
Graphic design: Tijdsbeeld & Pièce Montée: Rik Jacques, Ronny Gobyn, Janpieter Chielens and Anna Couvreur
Digital production: Lunar Gravity NV: William Blommaert, Laurijn Deschepper, Glenn Fellows, Thomas Verleye, Pieter Wijffels

Open source repository: http://git.lunargravity.be/project/amsab-fork
Technical monitoring: Jos De Lannoy and Mario van Driessche, Amsab-Institute of Social History
Translations: Jan Vermeersch, Amsab-Institute of Social History and Christophe Declercq, University College London, University of Antwerp, Amsab-ISH, Imperial College London
Final editing: Paule Verbruggen, Amsab-Institute of Social History
Administration: Viviane Taeckens, Amsab-Institute of Social History
Scientific Committee:
dr. Michaël Amara (State Archives of Belgium, Brussels) dr. Helen Baker (East Twickenham Village Belgian Refugee Research Group), prof. dr. Frank Caestecker (University of Ghent), prof. Peter Gatrell (University of Manchester), prof. Lorna Hughes (University of London), Dirk Musschoot, dr. Katherine Storr (University of Sussex), Annick Vandenbilcke (In Flanders Fields Museum), prof. dr. Geert Van Goethem (University of Ghent), prof. dr. Christophe Verbruggen (University of Ghent), Caterina Verdick (University of Antwerp), dr. Valerie Vermassen (Familiekunde Vlaanderen), prof. dr. Antoon Vrints (University of Ghent)
Thanks to everyone involved in this project:
Ann Ade, Erica Albini, J. Anderton, Paul Anderton, Isobel Aptaker, Katy Ashton, Sam Astill, Susannah Baccardax, Clara Badella, Nicole Bakker, Inge Bauwens, Bram Beelaert, Alison Begas, Roland Bergeys, Rika Billiau, Myriam Blieck, Cyriel Boeynaems, Frank Boijmans, A. Bonne, Katelijne Boon, Graham Bradshaw, Raymond Brants, Lucien Bressers, Ruud Bruijns, Roger Bryssinck, Storm Calle, Michael Clapp, Colin Clapson, Amélie Clément, Geert Clerbout, Michelle Collins, Koen Cools, Lieselot Cornelis, Philippe Cornut, Rachael Corver, Jan Coulommier, Liesbeth Croimans, Ann Croymans, Andrew Daines, Yves De Baets, Zuster Juanita De Boeck Juanita, Cyr De Bruyne, François De Geest, Betty De Herdt, Erwin De Keyzer, Rosemarie De Man, Lieve De Mey, René De Munter, André De Poorter, Geert De Proost, Jaak De Schryver, Johan De Smet, Lucien De Smet, Joris De Sutter, Walter De Swaef, Jean De Vlieger, Jolien De Vuyst, Paul De Vuyst, Wouter Deboeck, Jan F. Deckwitz, Philip Declercq, Yves Decock, Manon Dekien, Jef Demey, Guido Desutter, Wilfried Devoldere, Huguette Devriendt, Baudouin D'hoore, Etienne D'hulster, Peter Doyle, Johnny Driesen, Joseph Dumon, Jmaine Edwards, Peter Evans, Frie Feremans, Katherine Findlay, Greta Folders, Tony Foster, Fredy Franssen, Stephan Friedel, Marc Ganseman, Rita Gayford, Rebecca Gill, Gerard Greene, Jacques Hemelaers, Rik Hemmerijckx, Marthe Hens, Stacey Hickling, Dan Hill, dr. Benno Hinnekint, Jonathan Hopkinson, Jef Hostyn, Adolf Houtekier, Hanna Huws, Maria Huybens, Geert Janssens, Annick Kampen, Roger Kershaw, Gina Koutsika, Pieterjan Lachaert, Ludo Lathouwers, Hendrik Lauwereins, Bill Lawrence, Isabelle Le Ponce, dr. Willy Lipschutz, Alen Lowe, Erwin Mahieu, Daniel Marsham, Bernadette Matthys, Rik Maurissen, Laura Millward, Denise McNeel, Valerie Meillander, An Meirhaeghe, Philippe Menu, Louis Metzger, Heidi Moortgat, Dirk Musschoot, Gilbert Nieuwenhuyse, Edmond Nys, Lauro Nys, Daniëlle Palmans, Julie Parry, Jo Patteeuw, Herman Peel, Lia Peeters, Tom Pelgrims, Freddy Philips, Bart Pittoors, Roger Potemans, Nele Provoost, Arne Pyson, Patricia Quaghebeur, Yannick Raus, Aline Remael, Karen Roebuck, Simon Robbins, Kurt Rondelez, Nelly Roosen, Freddy Rottey, Alison Sandford MacKenzie, Inge Schoups, Rene Schroder, Griet Simoens-Flour, Chantil Sinclair, Everard Slaghmuylder, Johan Slootmans, Joachim Spyns, Ineke Steevens, Jozef Stevens, Ciaran Stoker, Mathias Swings, Wim Taes, Arile Tassin, Alan Taylor, Richard Temple, Alison Tessier, Lisa Thomas, Lieve Tireliren, Anna Towlson, Rob Troubleyn, prof. dr. ir.-arch. Pieter Uyttenhove, Liz Valette, prof. dr. em. Karel Van Acker, Tine Van Aerschot, Marie Van Baelen, Gaston Van Bulck, Harrie Van Camp, Piet Van Damme, Selma Van de Perre, André Van den Broeck, Wim van der Elst, Jocelyn Van Eycken, Marijke Van Hemeldonck, Jessica Van Horssen, Frans van Loo, Roger Van Malder-Van Lier, Luc Van Overbeke, Maryline Van Parys, Maarten Van Steenbergen, Klara Van Tichelt, Gerrit Vanden Bosch, Peter Vandenabeele, Annick Vandenbilcke, Karen Vanderplaetse, Willy Vandevijver, F. Vandevyvere, Chris Vandewalle, Luc Vandeweyer, Karel Vangenechten, Luc Vanmassenhove, Marc Vansevenant, Johan Vantwembeke, Myriam Verbeke, Florent Verfaillie, Ida Verhaeghe, Claudia Vermaut, Rosane Vermeirsch, Frank Vermost, Jolien Verroeye, Inge Vervotte, Jos Verwimp, Dieter Viaene, Toni Vitti, Lien Vloeberghs, Paul Vrijens, Marc Vuylsteke, Jan Wachters, Julian Walker, Angela Ward, Ben Waterschoot, Charles Weager, Linda Williams, Lea Winkeler, Gaby Wittockx.
Our partners:
Amsab-Institute of Social History coordinates this international cultural heritage project. It is supported by a number of leading interational partners: First World War Centenary (Imperial War Museum), University College London, Women's Library (London School of Economics), People's History Museum Manchester, Alexandra Palace, Herts at War (Hertfordshire) and Redbridge Museum. Our partners in Flanders: In Flanders Fields Museum, Heemkunde Vlaanderen and Familiekunde Vlaanderen, Royal Library of Belgium, State Archives of Belgium, Red Star Line Museum, Vredescentrum en het Agentschap Integratie en Inburgering Brussel.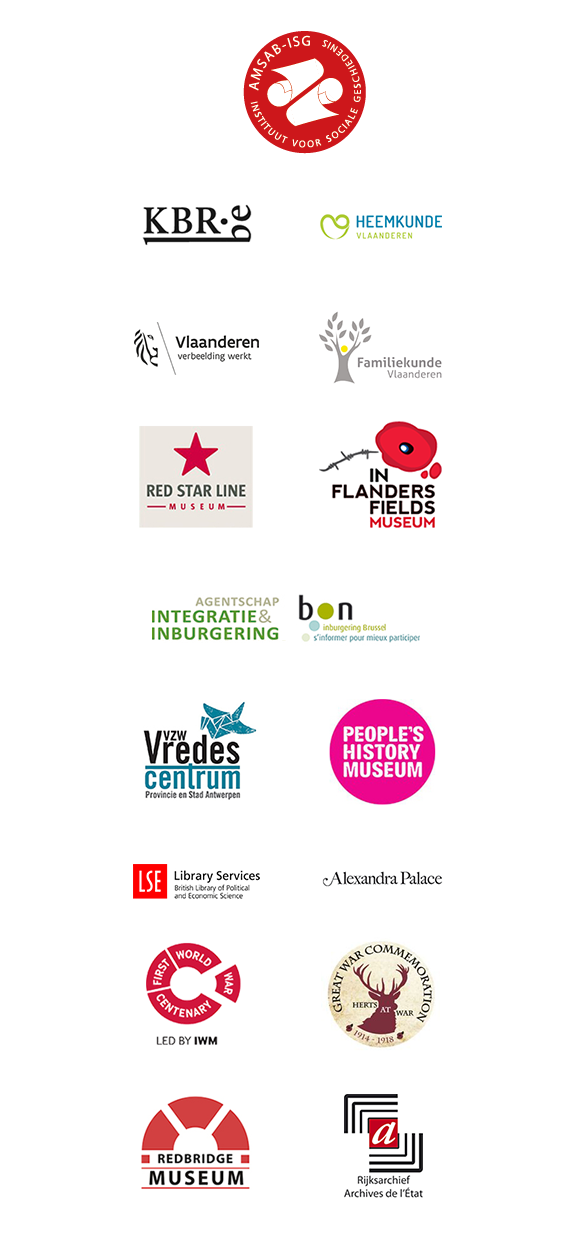 This project was realised with the financial support of the Flemish Governent and the Province of East Flanders: